Sausage rolls
Sausage rolls are part of my childhood. When we went shopping, the Bijenkorf always let us have a drink and a sausage roll. A family tradition and a regular occurrence.
And I still love them! Such a crispy layer of dough and then a tasty meat filling in between, yum! It was always great fun to have a drink together and then go shopping.
Sausage rolls
Now I make a lot of things myself but I had never made sausage rolls before. While they are very easy to make. You can vary with spices and flavors yourself. If you like things a little spicier, for example, just add some sambal. I don't usually do that when I make it for the kids.
I cut them into small pieces so you have mini sausage rolls but feel free to make big ones if you have a craving.
What you need?
For 4 large sausage rolls or 12 mini's
4 slices of puff pastry, thawed
1 egg, beaten loose
200 grams half and half minced meat
50 gram breadcrumbs
pepper and salt
1 teaspoon paprika
1/2 tablespoon ketchup
How to proceed?
Preheat the oven to 200 degrees Celsius.
Put the minced meat with the breadcrumbs, paprika and ketchup in a bowl.
Season to taste with salt and pepper.
Add half of the beaten egg and knead well.
The meatloaf mixture should stick together well, if it is still too wet, add some more breadcrumbs.
Make 4 rolls of the meatloaf mixture, just as long as the puff pastry.
Put the rolls on one side of the puff pastry but leave a cm on the edge.
Fold the puff pastry in half and press the edge well.
For mini sausage rolls cut each roll into 3 pieces.
Brush the sausage rolls with beaten egg and bake on a baking sheet lined with baking paper for 20 minutes until golden brown.
The sausage rolls keep perfectly in the fridge so they are ideal to make in advance. You squeak them up in 5 minutes!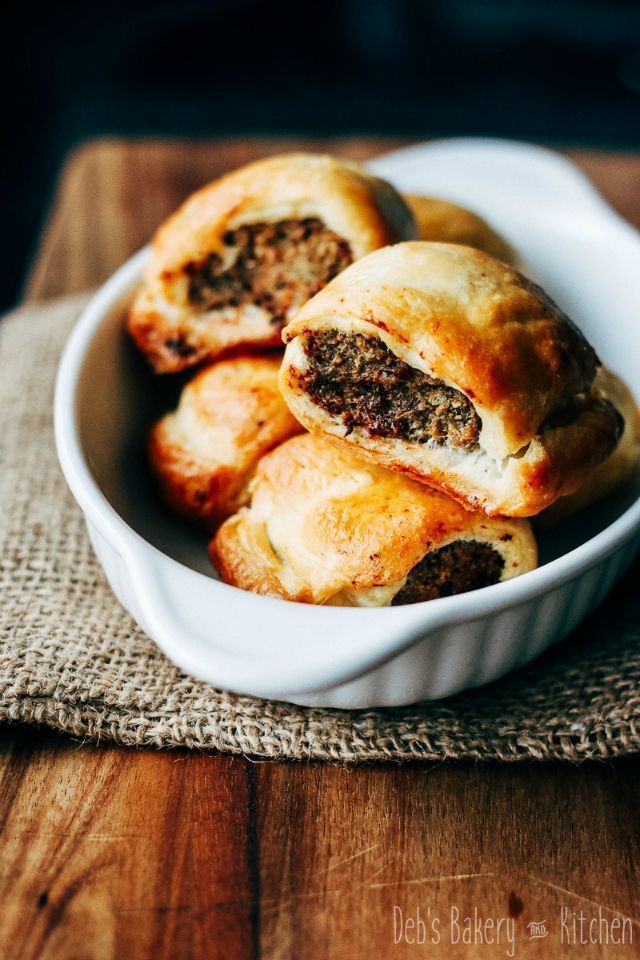 This article was written by Debbie Bodewes. More from Debbie can be found on her blog Deb's Bakery & Kitchenfollow.
♥ ♥ ♥ ♥ Fulltime Mama uses affiliate links. This means that if you click on one of the links, we might get a small commission on it. It costs you nothing extra, but it does earn us something.
With these profits we can maintain this website. Also, sometimes we get paid for an article or we get a product in exchange for a blog post. This still leaves our opinion unchanged and honest. For more information you can read the disclaimer. ♥ ♥ ♥