DIY Saint countdown calendar
Another week and then the good man will return to our little country. I'm already busy with the preparations. Saturday 14 November we will be at the front to welcome Sinterklaas and his Pieten. The children are then allowed to put on their shoes, but then they really have to wait until it is Christmas Eve.
In order not to have to tell 100 times every day that it really isn't Christmas Eve yet, I already made a Sint countdown calendar. For example, it is clear to our little man when he can expect presents.
Sint counting calendar
The Sinterklaas time always takes a week or three. From the entry to the day that Mr. leaves again. That is a long period for the little ones among us and also a busy and possibly exciting period.
In order to steer this somewhat in the right direction and to create some clarity, I made the Sint counting calendar.
At the Action I bought the Advent calendar of Hout. Actually mean for Advent time, but I put this calendar to turn it into Sint-Edition. The calendar has exactly enough boxes from entry to departure.
I cut rectangles of yellow and red cardboard. On every piece of paper I wrote in the corner the day of the month. Especially for myself because then I can check which boxes should be opened. I glued the rectangles to the doors with double-sided tape, so I can easily remove them when Sinterklaas has passed.
Against the back wall I made a background of cardboard with houses and the moon. Our children are allowed to put their shoe three times. About every weekend until Christmas Eve. So I cut out pictures of a shoe and glued them to the relevant dates. I did the same with the pictures of the presents to indicate when we are celebrating Christmas Eve.
We do this twice. The boat was also cut out and pasted. Once before the arrival and once before the day of departure.
By the way, this one is a day later with us because we are celebrating Christmas Eve again on December 6th. We also go to a performance of Sinterwoezel and Pietje Pip and to the Zapp Sinterklaas party. These also got a place on the calendar.
Behind every door I put a chocolate coin and so our little man can open a door every day. When the Sinterklaas period is over, I will make a nice advent calendar again.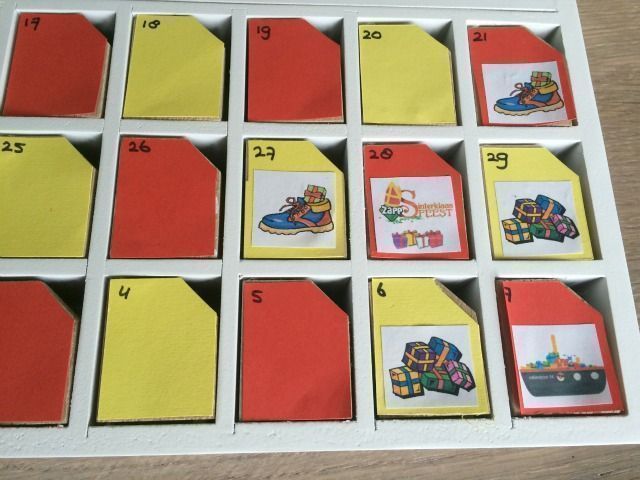 Of course this calendar is still being concealed, but next week we will pick it up. I am curious what the little man thinks about it.
Are you also looking forward to Sinterklaas? Or would you rather skip that?
♥ ♥ ♥ On full -time mom, affiliate links are used. This means that if you click on one of the links, we may get a small committee about it. It doesn't cost you anything extra, but it will give us something.
We can maintain this website with these yields. We also sometimes get paid for an article or we get a product in exchange for a blog post. Our opinion still remains unchanged and honest. For more information you can read the disclaimer. ♥ ♥ ♥