Tuby Badcape- a handy invention
Tuby Badcape from Invented 4 Kids is a most convenient inventions for you and your child. Never again the problem that you don't have a towel in the area, because you have it very handy to hang your shoulder. Here you can read exactly how this works.
Take your child in the bath
As a new -baked mother you are already incredibly insecure and especially when you take your child in the bath and then with such a smooth and moving squabe in your arms. With the Tuby Badcape you will never have to worry again that you will drop your child and you always have your towel at hand.
Experience expert at Invented 4 Kids ™
Guus Welling is an inventor/ entrepreneur and founder of Invented 4 Kids ™. In 1999 he developed the Plicker ™. A sticker with which boys learn to focus well in the toilet.
After this sticker, a toilet training followed on this pee sticker ™. In the meantime, he had become a father and so experience expert and brought the Baby Shower Glove &#x2122 in 2014; on the market.
Baby Shower Glove
Showering together with your baby is nice, but it only makes it difficult, is that a baby is very slippery in the shower. To have more grip on your child, has invented 4 kids ™ the Baby Shower Glove ™ developed, a special glove that largely covers your forearm. As soon as the Baby Shower Glove gets wet, the special terry cloth of the glove sticks to your arm and your entire forearm becomes rough.
This way you have a better grip on your baby if you are in the shower.
The Tuby Badcape
And now coming back on the bath and dried ritual. This year they won the Baby Innovation 2018 Award with the Tuby Badcape. There is a weighted leg in the Tuby Badcape. You throw this over your shoulder.
The bath cape now lingers, so you stay dry and you have two hands free to wrap your son or daughter in the bath cape.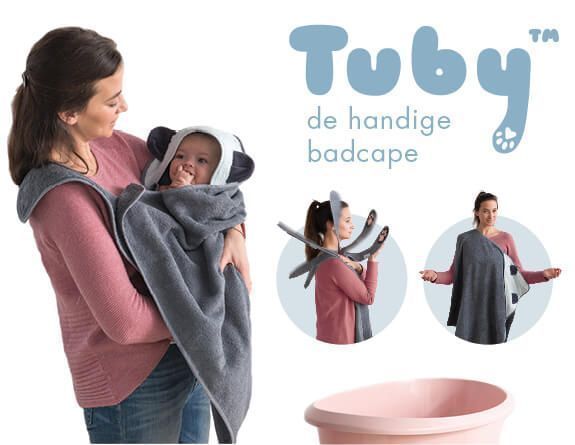 Here you will find all points of sale and information about Invented 4 Kids ™.
The Baby Shower Glove (One Size) costs € 13.95 and is available in five versions. It is made of soft, ecological cotton and carries the "Confidence in Textiles" quality mark.
The Tuby Badcape costs € 29.95 and is available in three original versions: Like a chimpanzee with large ears, a koalabeer with fluffy ears and a panda grear with black ears. One leg of the animal hangs over your shoulder and it keeps the bath cape in place in a smart way.
What you want to see for yourself and your child?