The first outings with your baby – 5 tips
You have just become a mother and are at home with the baby, how nice is this. But then you also want to go on your first. Very exciting that first outings with your baby! But no worries. Ergobaby has everything for you and your baby to enjoy being outdoors together.
Out and about with your baby
After nine months of pregnancy you have your son or daughter in your arms and as nice as it is to be nice and warm inside, you also want to go out together. But especially in the beginning it is incredibly exciting. Your baby will not be too cold or too hot. Getting it right? Don't worry, these 5 tips will help make your baby's outings more enjoyable.
Don't carry too much
The first outings with your baby, consist mainly of the question;'what do I take with me?'. But what do you need? Of course, this partly depends on your baby, but make sure you have at least one spare suit and onesie, diapers, hydrophilic cloth, wipes and a pacifier. When bottle feeding, don't forget to bring this too. And if you are breastfeeding, be sure to bring some water for yourself as well, after all, you need to drink well and keep your hydration levels up. .
Choose a smaller baby carriage
Often we want solidity, sturdiness, even in a stroller. However, if you prefer to go out further and more often, a baby carriage that you can quickly and easily fold into a small package is a good idea. That way that nursery bag still fits in the trunk and there is plenty of room left in your car. There's the Metro+ stroller by Ergobaby that folds into a small flat square in 10 seconds. No more Tetris puzzling in your trunk. Your hiking boots, nursery bag and backpack fit in effortlessly.
Safe car seat
Safe and comfortable, two words that belong inseparably together. Make sure you also use a safe and comfortable car seat. So you can drive carefree while your baby takes a nap. When buying a stroller, ask if your car seat will fit. So you don't have to wake your little one up after a car ride, and you can click the seat out of the car and onto your stroller's chassis in one smooth motion. With this idea in mind, Ergobaby and BeSafe have joined forces and together present the Ergobaby x BeSafe iZi Go Modular X1 i-Size Car Seat. Thanks to the 5-point harness and Dynamic Force Absorber technology, your child can travel safely and securely in the car seat from birth to one year old.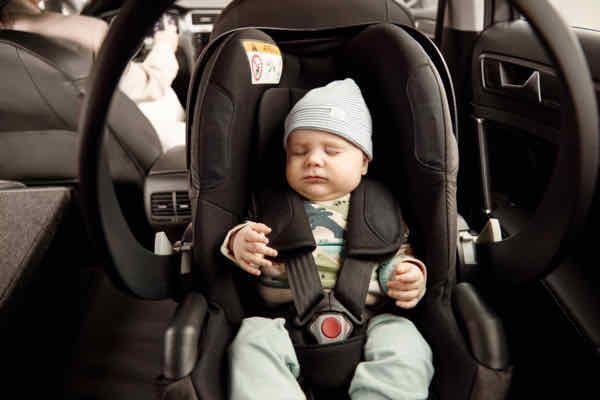 The Ergobaby iZi Go Modular X1 by BeSafe Car Seat is on sale from Feb. 24, 2022 for €269.90 and available in two packages. The car seat, including the Metro+ stroller goes for €599. For the Isofix base you pay a total of € 799.
Always bring a baby carrier
Even if you walk with your newborn in the baby carriage, it is wise to always bring a baby carrier. When your baby is hungry or in need of skin-to-skin contact, you can take him or her out of the stroller and carry him or her close to you as you stroll along quietly. A baby carriage with enough storage space is so important! The Metro+ has a handy storage compartment under the seat, rain cover, footmuff and sun visor.
Do what's right for you
Don't be too hard on yourself. Whether it is your first outing with your baby or your tenth, do what feels right for you. Notice when your little one gets tired? Or would you rather return home? Do this.
Learn more at : Ergobaby.be
Go out together
Has your baby just been born, but also in the time after this it is so nice to go outside. Go enjoy the first rays of the sun, take a leisurely walk around the neighborhood, or take it all and go on a hike. A change of scenery is super fun and you see something different for a change.