The rise of the mocktail. Alcohol-free alternatives with apple
Conscious eating and drinking is always good, but just as important is the pleasure of preparation. Marlene Apples developed some simple mocktails to treat yourself to. Drink a mocktail with?
Need for a drink
I will not beat around the bush, since we are all indoors all day and I am also a bit of the teacher besides being a mother, I 'm craving a drink in the evening more than usual. We all manage fine, the boys are doing well and we work well together. Still, sitting inside is quite heavy and that's not strange at all. So that drink 's evening does taste good. But since I don't want to go straight to wine or beer, I am very happy with these recipes for a mocktail. It's just an extra surprise for yourself in the evening instead of a cup of tea and without alcohol.
A mocktail, alcohol-free cocktails
But of course it is also super fun and delicious to be able to make a mocktail during a party. Because in the blink of an eye you can make a happy aperitif or snack to quench your thirst. These beautiful non-alcoholic alternatives are a joy to make and a feast for the eyes. An added benefit; you also get a healthy dose of vitamins!
Fan of Marlene apples
Marlene apples you may already know. The aroma and taste of these apples are shaped by the unique climate of South Tyrol. With more than 300 days of sunshine a year, apples ripen perfectly here. Plus, the big difference in day and night temperatures creates a perfect sweet-sour balance in the apples, a crisp bite and brilliant color. Marlene offers several apple varieties that are perfect for inclusion in mocktails and smoothies.
Why eat apples?
Apples are good for the immune system. In addition, an apple is rich in antioxidants, which has a positive effect on the brain. Red apples, such as Red Delicious, Royal Gala and Fuji work to lower cholesterol. A mocktail a day, keeps the doctor away!
Mocktail recipes
But could you just get on with those recipes for a mocktail?. Below are three recipes:
Queen Apple
What do you need for this mocktail:
3 cl Marlene Royal Gala apple pie syrup*
0.5 cl Balsamic vinegar
2 cl lemon juice
3 cl water
1. Pour all ingredients into a shaker
2. Fill the shaker completely with ice
3. Shake on it!
4. Pour the contents of the shaker into a glass filled with ice
5. Garnish with a slice of apple, wedge of lemon and star anise if desired
*How to make Apple pie syrup?
Put a pot on the stove with a pint of water and 2 Marlene Royal Gala apples. Then put on medium heat. Blend everything briefly with the hand blender and then let rest on the stove for fifteen minutes. Add 2 cinnamon sticks and 3 star anise to the hot mixture. Add half a kilo of sugar and stir until dissolved. When the syrup begins to simmer, simmer gently for 20 minutes. Then you may strain everything so you have a nice ready syrup. Let your syrup cool before pouring it into a bottle.
A Fierce & Golden mocktail
6 cl Marlene Golden Delicious apple juice
Top with ginger beer
lemon
1. Wash and slice your apples
2. Put the apples in the juicer and collect the juice
3. Squeeze 1 wedge of lemon into the juice
4. Fill a long drink with ice
5. Pour the apple juice first and top off with ginger ale
6. Garnish with pretty apple slices
Delicious Red Rose
Supplies for this mocktail:
4 cl Marlene Red Delicious apple juice 6 drops rose water
1 cl lemon juice
Top off with tonic
1. Wash your apples and cut them into chunks
2. Put the apples in the juicer and collect the juice
3. Squeeze 1 wedge of lemon into the juice
4. Grab a champagne coupe and spread a line on the glass with honey and sprinkle with rose petals
5. Fill your coupe with crushed ice
6. Pour the apple juice, rose water and lemon juice into the glass
7. Top with tonic
8. Garnish with a few apple sticks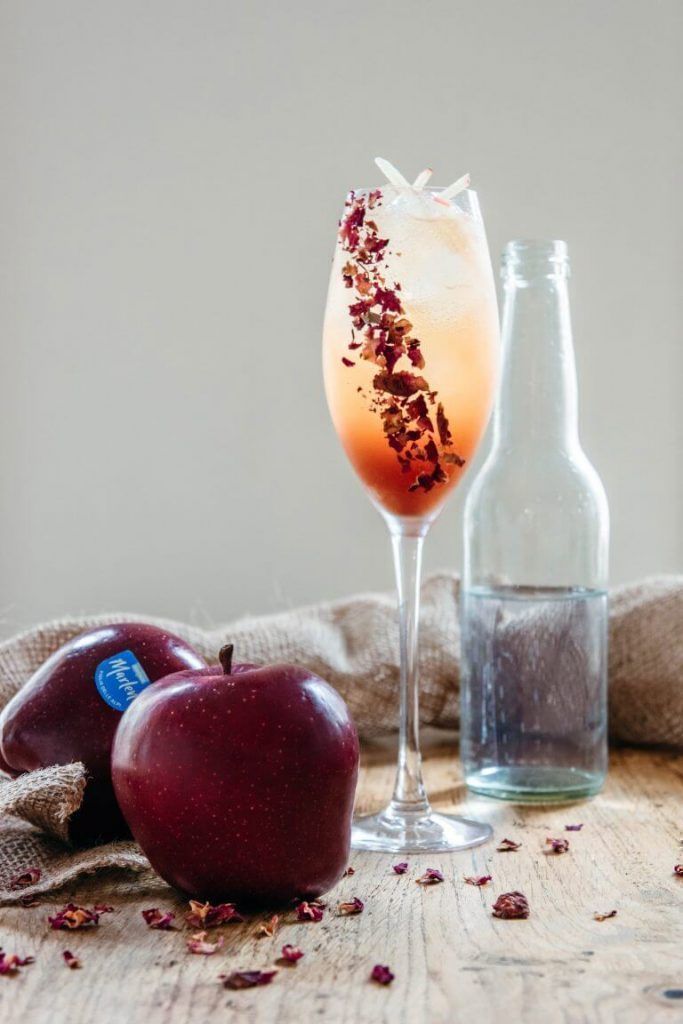 Photo's image bank/ recipes are free of rights and developed for Marlene Apples by Frederic Geirnaert, bartender at Jigger's in Ghent, Belgium