To create my own workspace in the living room
Now what is an ideal workspace, when you want to sit downstairs but not at the dinner table? My workplace was in the living room, at the dining table. I had been dreaming of my own place for so long.
But how to create your own space in the living room?
Conversion in the living room
When we got a new kitchen a few years ago, we immediately changed the whole layout of the living room. The dining table ended up on the other side of the living room. Here he is fine, the only downside is that there is little light.
This dining table has been my workspace for years. That was it when I started my own practice as a weight consultant and now I blog here. But I also draw, paint and craft on this site in my Bullet Journal.
My drawing stuff and crafts are all over the living room, you can find something everywhere.
A workplace of my own
More than once I have talked about having their own workspace in the living room. It's not that the dining table is not pleasant to work on, however, I have to clear it every time. The boys have lunch at home every day, so at noon my stuff goes aside. Then they come home from school and want to do homework at the table or do crafts.
And then we eat and everything has to go. Then my husband also works from home sometimes. Or. I just want my own desk.
Changing the living room
Now our living room is not very big but it could still accommodate a nice workstation of mine. Especially when I can leave my craft stuff in one place. Nothing really needs to be changed in the living room.
Only the boys' beanbags I put in their own room. This is fine with them, as these days they find it super fun to chill out here 'chill' with friends.
Finding a desk
And when the decision was made that I would have a workplace, the big search began. What was I looking for? A desk that was not too big, had to have drawers and also had to match the interior. Get started!
Searching on Pinterest
One Sunday we went to several stores at a home furnishing mall and got some ideas here, but did not see the desk of my choice. In the car we discussed what we would like and at home I checked out Pinterest. After our visit to the mall I decided I wanted a desk made of scaffolding wood.
I searched on scaffolding wood and desk and through pictures came across the site of 123 Home Collections.
Scaffolding wood furniture
At this store they sell not only desks, but also tables, chairs, cabinets or beds made of scaffolding wood. Actually everything for the living room and bedroom. On the site I immediately saw the desk I was looking for. I could adjust the length and width to my liking. And chose 120 by 50 cm, so you can still easily walk past it.
I could choose from different colors and chose the color gray wash as I found it most beautiful with the floor and I could also specify the handles and drawers as desired and where. The ordering was done quickly, then the waiting began.
The wait was long
The site said it could take two to four weeks. As soon as the furniture would be ready I would get an email to plan the delivery day.Further on on the website I read that it could take four to six weeks. So I counted on six weeks, but of course I hoped sooner.
After three weeks I had not heard anything
When I hadn't heard anything after three weeks, I sent an email via the contact form since we were going on vacation. I knew I wouldn't have little cell phone coverage here and didn't want them to have to wait for me with a response to the delivery date. But I never heard anything back on this mail. When I came back from vacation, it was five weeks and I decided to call.
Here I got the phone call that my workplace would be delivered at the end of the week.
My workspace in the living room
The desk was delivered and it was a bit exciting, because how would it look. Well fine of course. The color matches the floor exactly and contrasts nicely with the other furniture.
Because of the sturdy riser wood it looks great next to the dresser and cabinets in the living room. Of course I immediately set it up and put it to use. I'm so happy with it. My own place, where I can leave everything at hand.
I have a good desk lamp next to it and the light from outside makes drawing and painting easy to do. I now sit comfortably every day at my own workstation in the living room, here I optimize my blog site and write all my blogs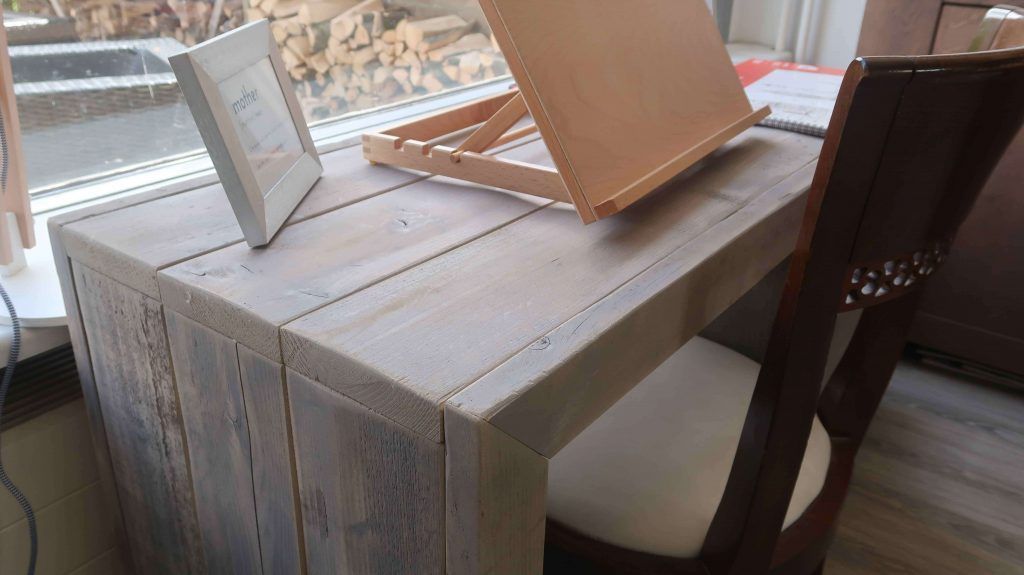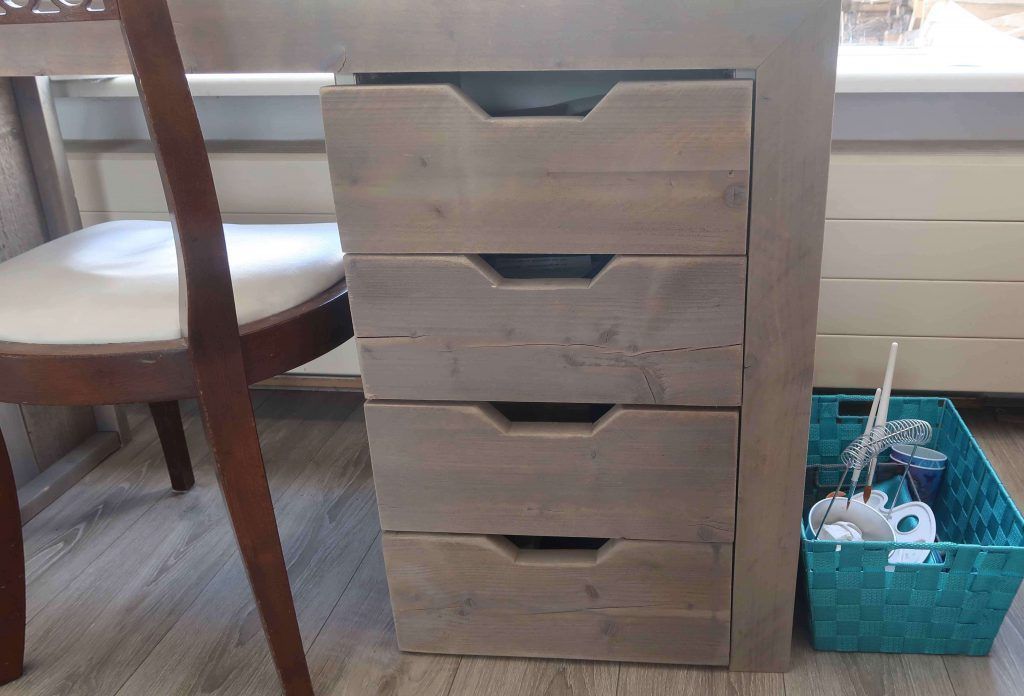 Do you have your own workspace in the living room or any other area of the house?